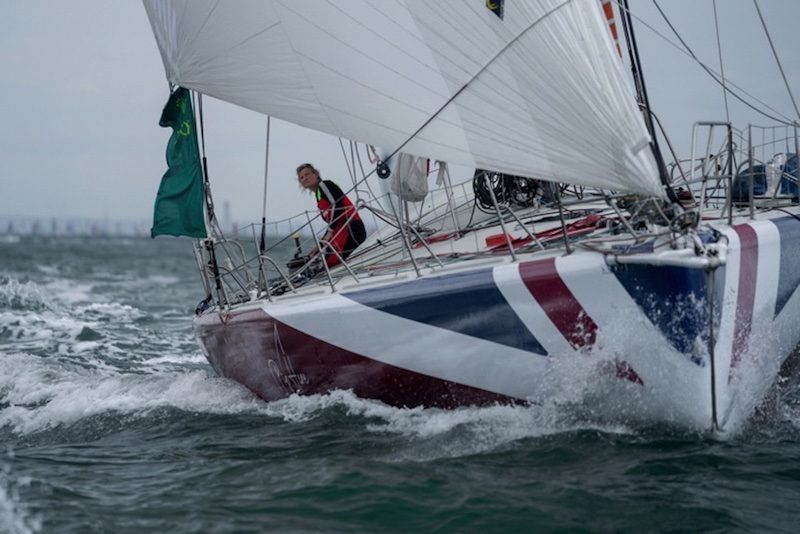 Thankfully, we're not reliant on my fishing skills for any form of sustenance.
During our travels we often find ourselves sailing through packs of fishing boats surrounded by pods of dolphins and diving gannets, all in a mackerel feeding frenzy. You would have thought that within this environment I couldn't fail to get a nibble but, as usual, nothing happens.
The obvious suggestion here is that I have the wrong tackle, but can I just stop you there as I am a sea-angling shop's dream customer ! … I constantly take advice from the assistant who, seeing 'MUG' written on my forehead, will shepherd me to a specialised counter where he'll lower his voice to a mere whisper as he lures me in with claims of …"I shouldn't be selling these Sir" … and … "It's not fair to the fish" …. And so, with temptation being the route of all evil of course I'm going to buy it, and so I have a lot of kit.
Due to poor pilotage planning, or rather no planning at all, we arrived at Bourgenay far too early to get in to the marina and with nowhere to anchor (due to the rocky nature of the seabed) we were forced to bob around outside for a couple of hours and would you believe it … I caught lunch …. Stuart 'the Hunter' has arrived.
Bourgenay will remain our furthest point south until we return next year and venture to La Rochelle and perhaps Spain beyond. This small resort is probably by-passed by many but here we found long sandy beaches, cycle paths through endless salt farms leading to small villages of wooden shacks serving chilled Muscadet and Oysters lifted from the River Payré only minutes earlier.
Turning through 1800 we started back north and entered Les Sables-d'Olonne, one of sailing's meccas and home of the Vendee Globe solo round the world ocean race.
Every four years since 1992 this event attracts the most elite offshore racers to take on what is considered the most extreme quest of individual endurance and the ultimate test in ocean racing. To fully understand their undertaking you need to consider that over 5000 people have reached the summit of Everest whilst less than 100 competitors have completed this race.
The French nation has a proud and historic grip on the top podium position with no other nationality winning it to date. Armel Le Cléac'h is the current holder of this title setting a new record of 74 days in the 2016-7 event.
The giants of sailing will reconvene in November 2020 and from the UK Alex Thompson with Hugo Boss, will once again set his sights on this elusive win which has alluded him in previous races, finishing 3rd and 2nd respectfully.
After ten years of training and in her first Vendee Globe, Pip Hare is equally flying the UK flag and aiming to be only the 8th female to finish the race and break the women's record of 94 days currently held by Dame Ellen MacArthur
Traditionally, and irrespective of when these contestants return home, such is the passion that this race evokes the breakwater piers are lined deep with supporters. And so, with this city steeped in sailing tradition and whilst entering between these same walls, which are adorned with plaques dedicated to all finishers, we too were welcomed in by a more modest crowd of confused well-wishers.
31st August 2019
Mileage completed 969 miles