Buses, credit card bills, midge bites and socks all seem to come in pairs whilst the frequency and scale of boat defects is a more complex equation (displayed as follows) :-

Irrespective of how comprehensive our winter overhaul was, the testing environment in which a boat lives and the pressures placed on it's components, you just have to accept the fact that eventually bits are going to break.
This year we've already had more than our fair share with both boom/mast connecting plates developing cracks, the interior roof panels coming apart and the bow thruster control panel deciding to activate when it felt like it (but failing when I needed it) … which is slightly irritating when you're trying to park 15 tons of boat.
But the main entertainment this year was supplied by a rarely heard of defect – one of our fresh water tanks splitting which halved our 400 litre capacity for nearly three months.
Traditionally, and rather conveniently, marine engineers design boats so that water remains outside of the hull.    That said, just in a case a trickle gets through, the bilge automatically pumps it out and it was this suddenly activating in the quiet hours of the night that tends to focus ones attention.
Instantly realising that continuous pumping indicates water from somewhere, up came the floor boards only to find something between a trickle and a small river.
The first test is to establish if this was salt or fresh water and to do this we have a piece of equipment which is always fully charged and one I'm fully trained in using – basically, you stick your finger in the water then shove it in your mouth with the results coming faster than your average pregnancy test!
Thankfully it was fresh water, so we weren't sinking. It was just a case of hunting down the leak. By understanding the basic laws of gravity (that everything flows downhill) it didn't take long to find a fast emptying 200 litre water tank. 
Now Beneteau, who made the boat, irritatingly didn't want to talk to us. Nor did numerous local dealers up and down the west coast of France. However, thanks to Ian Hearsey at Fairview Sailing, we ended up ordering it through the UK. But never being known to take the simple route, Beneteau insisted on delivering it to the UK although we were only 100 miles away from their factory in La Rochelle!
Our saviour came in the form of Uncle Pascal. This rather attractive and modestly heroic character is the Uncle of 'Guy' (The father of my new grandson, Frank) who conveniently lives in Les Sables d'Olonne. Furnished with his address, Beneteau agreed to deliver it to him. The entire process would have been seamless had Guy remembered to inform Uncle Pascal that an exceptionally large yacht water tank addressed to us was soon to arrive at his door!
As a fulltime chef and now a part time detective, Pascal narrowed the suspects down and with the mystery solved we headed south to apologise to a man who I'd never met, for using him as our personal concierge service.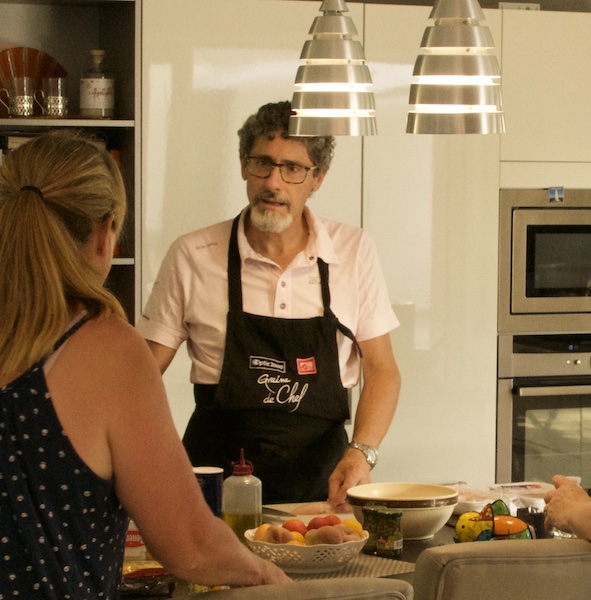 After taking half the boat apart, the old tank came out quickly and the new one installed. This brought the next problem to the fore – how do you get rid of a 200 litre water tank ? Well just as I was wondering that myself when a resident of Les Sables stopped me and asked if he could have it for his chickens – and who was I to argue?