Mileage 0 : Start Point Yarmouth Pier. 9am on the dot the sun shone the wind dropped we slipped lines from Yarmouth refreshed and with a plan. As we waved off the berthing master, tucked away the fenders and turned LJ on to 090 degrees I couldn't help but notice that the Raymarine Navigation system, which is a fairly intrinsic part of the boat, was completely blank. Now I'm not great with computers but turning it on and off is something I'm quite good at so I did this, several times, and even using my second less technical approach of shouting at it failed to achieve any response. At this stage I normally find myself reliant upon those strange young men who spend far too long in their bedrooms wearing AC/DC tour T-shirts and freely give advice like 'just reconfigure all the jiggy jiggy files into MSDOS and upload that via Itunes through a GIF streaming hard drive'. At this stage I've normally glazed over and wonder how someone so intelligent hasn't realised that fashion doesn't equal your trousers waist band hanging around your crotch.
That aside, I thought if a boat cannot be fixed in Portsmouth you're in trouble. So using memory, following ferries and something called a 'Chart' we found our way to Gosport. Nina did ask if I need a Sextant but I declined as I was a bit busy at that stage. After two hours of frantic phone calls I became horrifically aware that my system (of only 10 years age) was now obsolete with the damaged part being a common failure and due to demand I'd be lucky to find that bit anywhere in the country. In desperation I called Raymarine, the original manufacturer, who said they had one left – albeit second hand – and I could have it. So by 8.30 the next morning I was being handed a free coffee and led to the service centre where an hour later, and £80 lighter, I was the happy owner of a fully repaired and serviced out of date obsolete navigation system. But who cares it worked….
Returning to the boat I went about the re-installation and whilst doing this, and due to the contorted angle required to reach the plugs, something a lighter, younger and more agile engineer would easily manage, I twisted my back and spent the next three days in agony, in Gosport – one being worse than the other.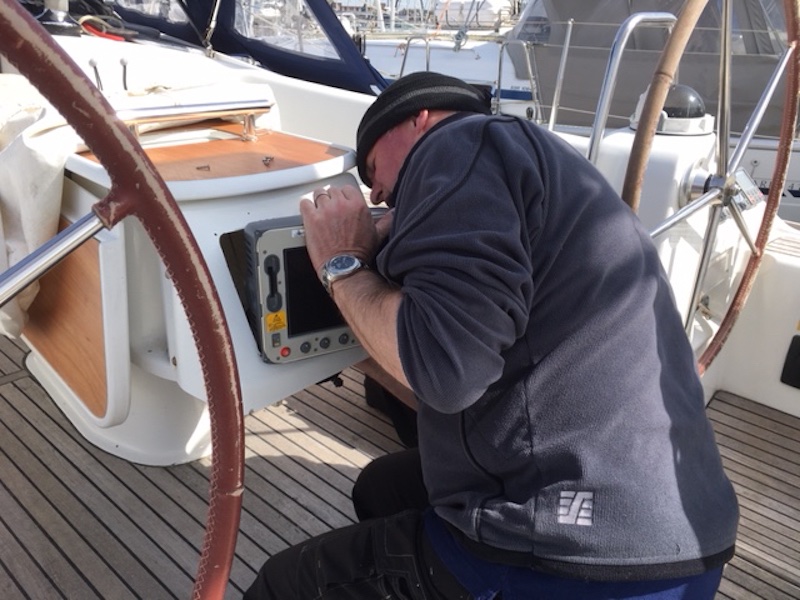 6th April 2018
Mileage covered 18