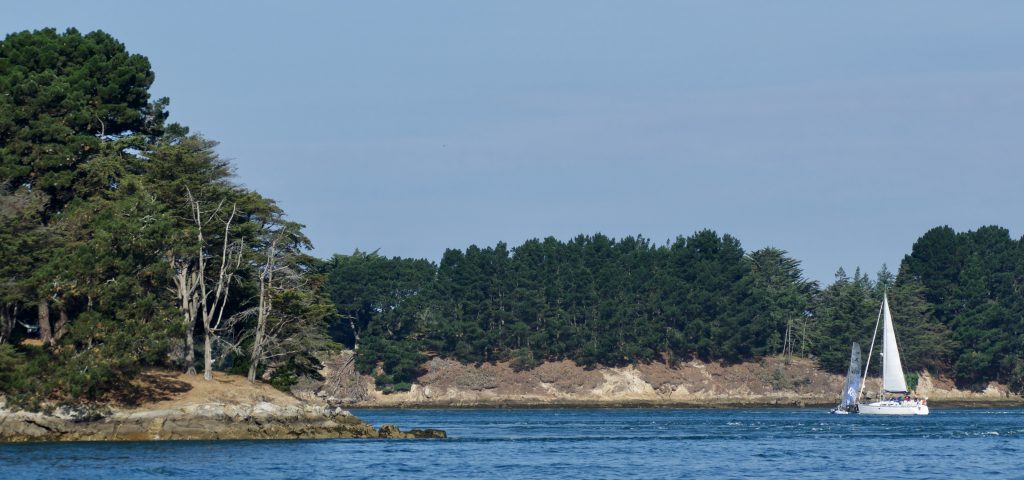 As the late afternoon sun dipped below the horizon we entered the Gulf of Morbihan. This is one of the 'must see' locations of the sailing world and one which we'd often studied and now we were here. With memories of the Atlantic swell behind us, we entered this huge inland archipelago containing a maze of islands with fearsome tides running in between.
The area is famous for an almost infinite number of peaceful inlets and bays where one can anchor for free, swim at leisure taking comfort from the sweltering afternoons and practice your star gazing at night.
Being our first visit here, we entrusted our guidance to a publication tantalisingly entitled 'Secret Anchorages' to locate these hidden gems. Sadly, this book has been reprinted several times since its first publication in 1993 and so it probably contains the worst kept 'Secrets' since Ryan Giggs and Philip Green were 'apparently' both applicants of super-injunctions.
July 14th is Bastille Day and a good excuse for the French to offload a huge number of pyrotechnics in celebration of the storming of the Bastille in 1789 which formed the inception of the French Revolution and the overthrowing of the monarchy. Vannes is considered to be one of the better places to be on this anniversary and whilst being at the northern end of the Morbihan sea it seemed the sensible place to make for.
The weekend passed with endless parades, street musicians, military tributes and frantic high speed cycle races which cut the town in two for hours a prevented us from returning to the Marina, the only solace being a bar. The fireworks were launched in tandem with music we'd never heard of and a historical story narrated throughout which left us in no doubt that French History can only be thoroughly understood through the medium of fire.
Within hours of arriving in Vannes we received news of my daughter's pregnancy being brought to a conclusion a month early and so decorators of the baby's room were in urgent demand. The staff of the marina generously handed us use of a private mooring with the assurance that they would keep an eye on LJ and so we left for home. It was such a shame that the mooring was directly adjacent to the new municipal skateboard park as we have both formed a fond liking for very loud 'hard trance' and 'aggrotech' music.
After a half hour yomp through Vannes at 6am, we boarded our first of many forms of transport. Changing at Redon, it took a second train to arrive at Nantes followed by a Bus to the airport, a Plane to Gatwick, a Mono Rail to the pick-up zone and a lift by the emanant Mr John Cox to arrive in Woking later in the day. Early next morning we were steaming walls, painting skirtings, wallpapering and carrying out tile repairs in the bathroom!
Three days later Emily brought Frank David James into the world. On becoming a Grandparent, I suddenly felt the need to purchase a sleeveless jumper and a pair of fawn trousers with an elasticated waistband. And through the corner of my bi-focals I'm sure I saw Nina thumbing through a copy of the Kaleidoscope magazine for a pair of comfortable fleece lined slippers, but I'm not sure. Anyhow, avoiding being totally immersed into world of being sensible grown-ups, and before I was asked to re-visit my long since forgotten nappy changing skills, we flew back to LJ who had touchingly been watched over by family friends and fellow Cruising Association members.
16th July 2019
Mileage completed 714 miles