The evening of May 26th saw us well prepared to depart Lowestoft for the long leg north to Grimsby (110NM). If all went according to plan, the lights of the Humber River should be twinkling at us about 18 hours later and so, in the company of Jonathan and Jeremy on their little boat Peverall, we entered back into the fray of the North Sea.
You may recall, there have been some historical comments about the accuracy of the BBC weather reports and once again, we were faced with an altogether different situation than predicted and it wasn't long before the contents of Nina's stomach became part of the shipping area known as 'Thames'. With 16 hours still ahead of us and with darkness descending, choppy seas and the temperature likely to reduce we made the decision to return to Lowestoft. This then became a drag race with a small fleet of Dutch sailors who'd made the same decision. Peverall, you may ask, made it to Grimsby – so a massive 'hats off' to them. However, having spoken to Jonathan, he admits it wasn't at all pleasant.
Today has been a reflective period revolving around the debate of 'Do we carry on?', 'Are we being defeatist so early on?' and, if so, 'What do we do instead?'
The reason these questions have arisen is primarily due to the state of the weather pattern that has surrounded the UK, and equally appears to be with us for some considerable time – if the BBC are to be believed. Our dilemma is as follows – as a yacht, we can sail in almost any direction apart from directly into the wind and since we set off, two months ago, that's all we've done. And because we must take advantage of the tide, these two elements have, for us, always been against each other causing very choppy conditions. The two pictures below indicate the difference between 'against the wind' and 'with the wind' so you have to ask which one would you prefer? We have decided to apply the 'Happiness' equation in making our decision!
An anti-clockwise circumnavigation of the UK is the suggested route for this time of year – these northerly winds have a predictability of only 4% based on the past 5 years, so statistically this shouldn't be happening : Our happiness levels, therefore, are being seriously tested.
The purpose of this 'Adventure' was to see new places and enjoy what they have to offer, with a few days as a stopover. It was not to personally boost the local economy by being storm bound for a week each time we completed a leg : Happiness levels therefore, are subdued.
So far we have not managed to sail during any leg. We're just beating continuously into waves and wind : Happiness is recorded in the column marked 'Trial'
One of our main objectives was to spend at least six weeks in West Scotland, however this is already being eaten into due to our slow progress : Happiness levels are in free fall.
We are less than a quarter of the way round, we are behind schedule and over budget : Happiness scores not possible.
Nina gets to spend all her time with me : Happiness level is understandably and immeasurably high.
We've also made an observation to add into this mix of factors – in Lowestoft, Woolverstone, Ipswich and Ramsgate marinas there are numerous, uninhabited, Dutch registered yachts. The Dutch, we've learnt, visit these shores often and in large numbers. They are polite, spend their money, unlike their neighbouring Viking ancestors, who arrived with an altogether different agenda! The reason for these abandoned yachts is that the North Sea appears to be a bit too lively to return North even for these blonde, tall, chiselled-featured, seafaring bunch which is indicator as to what's going on here.
So what are our choices…
Carry on smashing into the wind and waves in the hope that it will change soon? (See 'Insanity')
Give up for now and return to the boat later in the year, but then have to rush round ?
Turn round, sail 'with the wind' (refer to picture one), and spend the summer exploring Northern France, Channel Islands and possibly the Scilly's and have another go next year ?
Questions, Questions …
Ultimately, going round the UK was our 'Plan'. It was always going to be a challenge. We wanted an 'Adventure' but not a 'Trial' and the UK will still be here next year.
Tomorrow Morning the track will show us travelling North or South towards either Arbroath Smokies or Camembert and you will see what we've decided.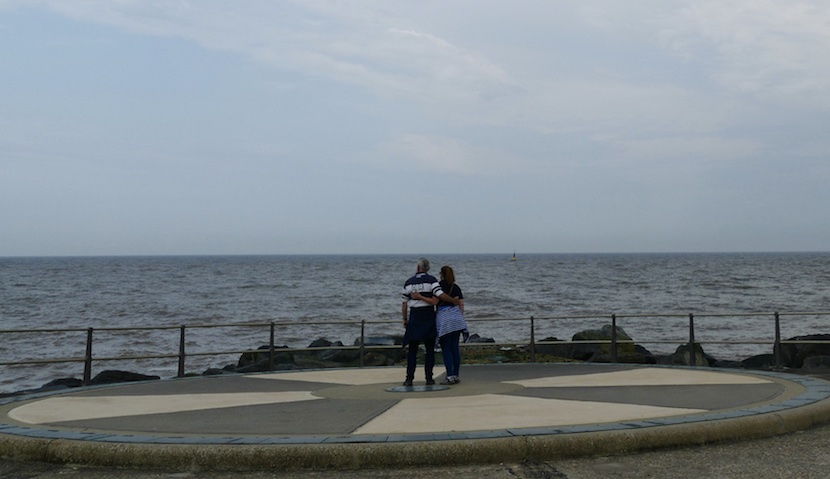 Glossary
Adventure : 'An unusual and exciting experience' (Oxford English)
Trial : 'A test of endurance and forbearance' (Oxford English)
Insanity : 'Doing the same thing over and over again expecting different results (Albert Einstein)